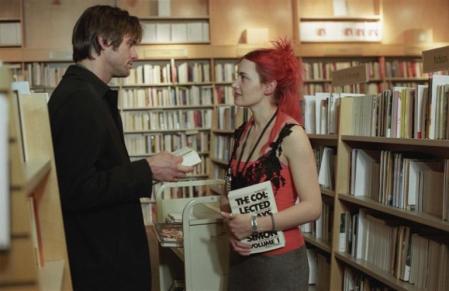 One of my all-time favorite contemporary films is "Eternal Sunshine of the Spotless Mind" and I'd be willing to offer that every person who has ever had a failed relationship must see it. Beyond the plot which is unique in itself, I love the utilization of non-linear narration films/series of films (and books - to those of you who know of my utter adoration of "The Time Traveler's Wife"). I find it to be engaging and it really brings me into the plot because I have to make sense of the pieces. The movies that I tend to "favorite" are the ones I own two copies of and at one point or another, watch every night for comfort, and I definitely own two copies of this one.

For an indy film, it has an all star cast: Jim Carrey, Kate Winslet, Kirsten Dunst, Elijah Wood, Mark Ruffalo, Tom Wilkinson, and David Cross. I love Jim Carrey. I have all of his movies and I think that he is underrated as a "serious" actor versus a comedian. The rest of the cast seem to be a great bunch and I don't feel as though there was forced chemistry between the actors in the film.

Plot. The plot, to me, opens up a realistic-ish sci-fi complication to human romantic relationships - would you "erase" someone from your memory? The story focuses in on Joel and Clementine's relationship and a company that you can pay to have a person permanently removed from your memory. Joel and Clementine have real chemistry, but for multiple reasons (Clementine's reckless spontaneity, Joel's wish-washy emotional unavailability) they just don't work out. It happens to the best of relationships; people are unwilling to grow or change and they lose and, ultimately, realize it is a loss in the 9th inning. The movie shows the erasure of memories from Joel's mind - which is retaliatory to Clementine's erasing him first - and through the unraveling of fussing, detachment, separation and other bad memories come the pleasant memories of the initial infatuation. Once Joel (and the image of Clementine in his memory) realizes that he doesn't want to erase her, he cannot be awakened through the process, and so in his love-sick slumber, they spend the movie hiding in other memories and running away from the machine that will, ultimately, zap his mind and make his life Clementine-free. The plot twist, however, is that..it doesn't.

Being a classic over-thinker, I wondered through this movie if I would be willing to have someone erased from my memory. I highly doubt it, because I'm the person that believes we grow from the experiences that we have with good people and bad people, and our current character depends on our past. Yet, there's always the desire to get rid of someone for good; outside of romantic relationships, who wants to remember negative traumatic events and the people (or animals) leading to them? Who wants to deal with being caught in the cycle of a break-up that just won't break? That's so passe, and we know how I feel about passe-bullshit.

It also has one of my favorite quotes: "I'm not a concept; I'm just a fucked-up girl who's looking for her own peace of mind -- don't assign me yours."

It's a good one.